TonyWynnArt  Virtual Exhibit

Dear Jone,

I am on the battery pack in the photophone booth

so this missive will be brief. Straight to the point

I heard you said

that my poetic observations,

along with being hopelessly banal and predictable,

do not rhyme

and it's off putting and almost annoying to a certain type of person -

that you don't even know why you are still reading this now you said

someone told me too gleefully

That my hopes are so hopelessly limited in negative focus

on this nanosliver of a life which is my known universe,

my probability of going to heaven...now almost non existent

and the human condition in general I feel I must bear solely for some reason

is just so tiresome...

(that I have missed the point). Badly. (And they don't even rhyme)

That you intend to give me an F

in the creative writing course

and will start a petition to have me expelled from the University

and banned for life from life. This is what I heard

So I couldn't sleep without retort

as I am sure this is just an overblown misunderstanding

amongst the accusing angels set in the teacher's lounge of life

but secretly I know I deserve to fail.  I just wanted to say.

That even though I went to every class

I missed the point.

I just didn't never understand

That the view from the window near my desk was my possible world and

attended my attention more frequently than all your streams of experienced wisdom,

that I admit I know you saw and hope you can understand why

every word you said about how to express feeling went in one poetry ear -

and then was suffocated with fear.

That most of my lifetime of dreaming I should remember but can't and it bothers me.

But I know all this stored imagination should benefit me supposedly

I just don't know when or why I even think that way

and this is how I rant.

And the problem of innocent suffering battling the believery part I get wrong sometimes

(but to FAIL me? Seriously?)

Jone, I am sorry that my real life doesn't rhyme.

In your perfection I hope you will graciously forgive me

and my unending shortcomings, while there is time

Give my love to all the other accusing angels...tell 'em Tony said hello

Dear Jone Letter

Tony Wynn

Berlin / ECC

9 October, 2014

European Creative Center Session 2 (White Lake)

DEAR JONE LETTER

40x50 cm mixed materials collage on stretched canvas

$600 includes air shipping from BERLIN

^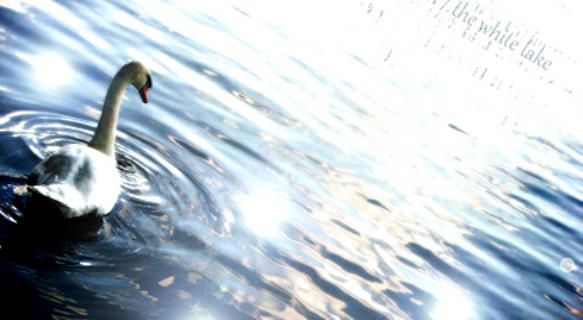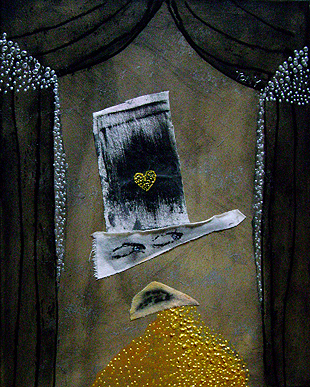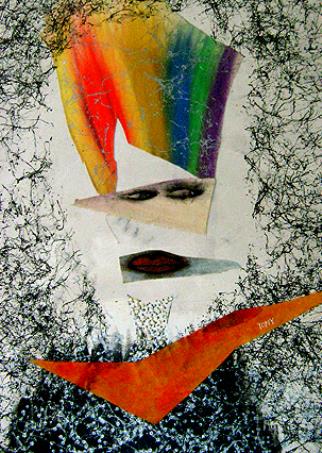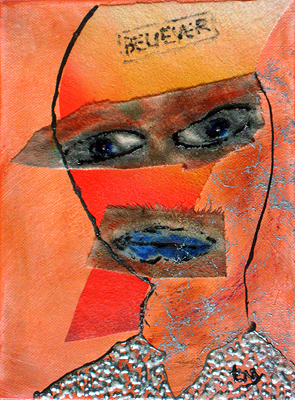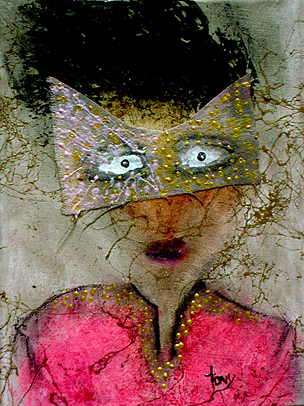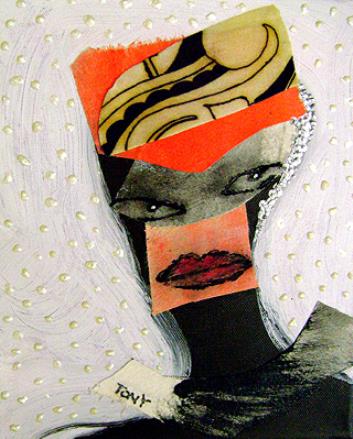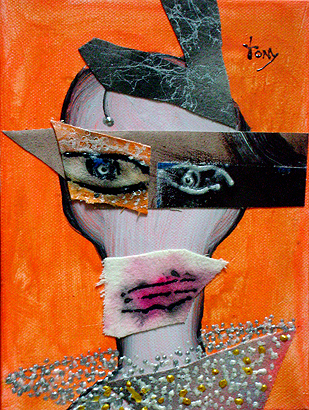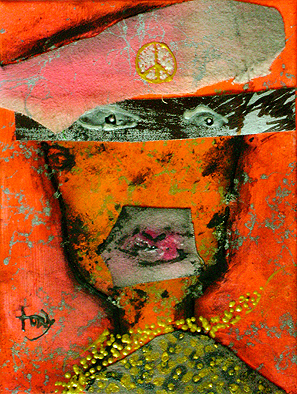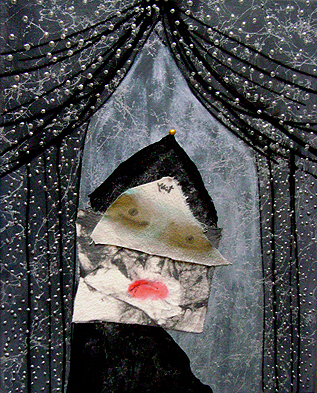 AUTO PORTREAT

18x24 cm mixed materials collage on stretched canvas

$200 includes  shipping

^

Therese Raquime

18x24 cm mixed materials collage on stretched canvas

$200 includes shipping

^

THE INTERN

18x24 cm mixed materials collage on stretched canvas

$200 include shipping

^

THE ART PATRON

18x24 cm mixed materials collage on stretched canvas

(PRIVATE COLLECTOR)

^

JONE

50x70 cm mixed materials collage on stretched canvas

$1200 includes shipping

^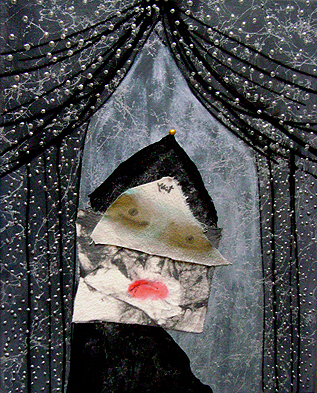 VIEW FROM THE CARRIAGE

40x50 cm mixed materials collage on stretched canvas

$600 includes shipping

^

SEMFI BOY

24X30 cm mixed materials collage on stretched canvas

$400 includes air shipping from BERLIN

^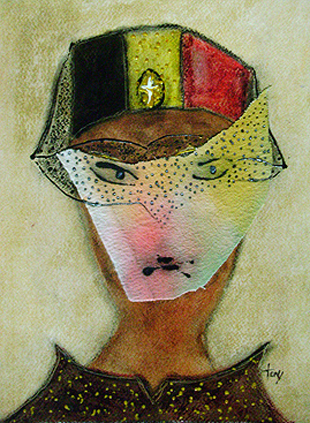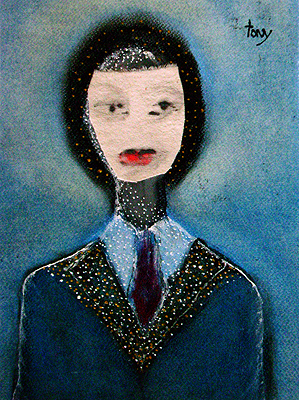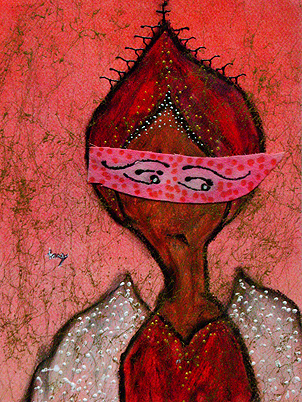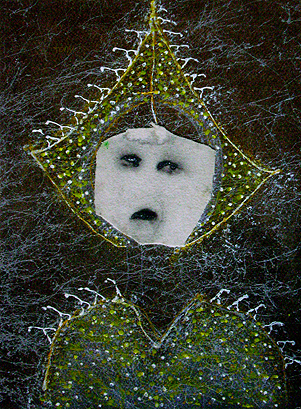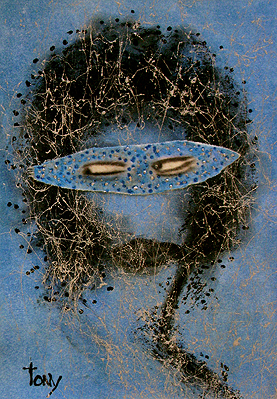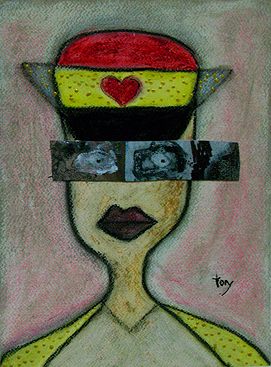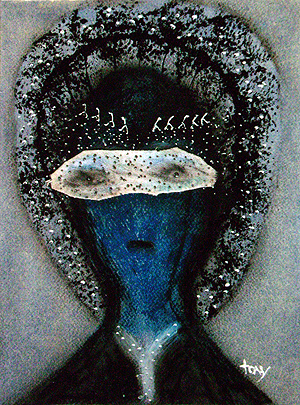 TONY WYNN'S BLUE BOY

21X30 cm mixed materials oil pastels on aquarelle

$150 includes air shipping from BERLIN

^

JUDE, the obscure

24X32 cm mixed materials oil pastels on aquarelle

$150 includes air shipping from BERLIN

^

THE LOVE CADET

24X32 cm mixed materials oil pastels on aquarelle

$150 includes air shipping from BERLIN

^

THE MAJOR OF CASTERBRIDGE

24X32 cm mixed materials oil pastels on aquarelle

$150 includes air shipping from BERLIN

^

ANGEL FOR THOSE WHO ARE BLUE

24X32 cm mixed materials oil pastels on aquarelle

$150 includes air shipping from BERLIN

^

THE UGLY AMERICAN (brown in berlin)

24X32 cm mixed materials oil pastels on aquarelle

$150 includes air shipping from BERLIN

^

QUEEN OFTHE VALKYRIES

24X32 cm mixed materials oil pastels on aquarelle

$150 includes air shipping from BERLIN

^

LARS LIES IN A CONFUSED MOMENT

24X32 cm mixed materials oil pastels on aquarelle

$150 includes air shipping from BERLIN

^